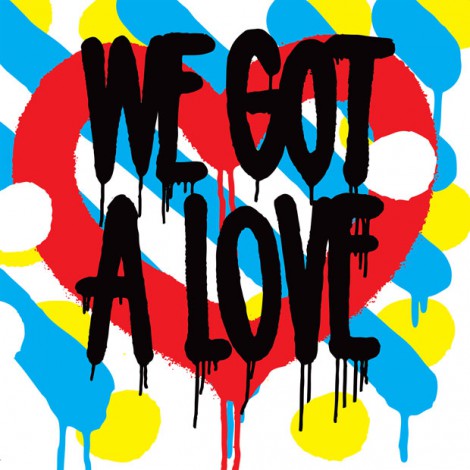 Chronique Album
Date de sortie : 17.03.2014
Label : DFA Records


Rédigé par
Johan
, le 21 mars 2014
DJ et producteur irlandais, Marcus Lambkin officie depuis 2004 sous le nom de Shit Robot. Auteur d'un premier album en 2010, From The Cradle To The Rave, le voici de retour avec We Got A Love, accompagné par de nombreux guests comme il a déjà su le faire sur son prédécesseur. Toujours co-produit par James Murphy (LCD Soundsystem), ce second effort studio paraît sur le label de ce dernier, DFA Records – et [PIAS] Cooperative dans nos contrées.

We Got A Love poursuit dans la lignée de From The Cradle To The Rave, déballant une dance posée, entre Hot Chip et LCD Soundsystem, parsemée d'éléments house, electro, techno et même disco comme le prouve The Secret sur laquelle débute l'album. Ses handclaps et faux airs de Souljacker part I de Eels et Thriller se mêlent à la voix de fausset de Reggie Watts passée à la machine, artiste allemand multidisciplinaire (human beatbox, musicien, comédien, metteur en scène) pour une composition d'introduction de sept minutes qui n'aurait pas démérité sur un disque de LCD Soundsystem.
La meilleure collaboration entre Shit Robot et Reggie Watts reste cependant la chanson-titre, avant-dernière piste de l'album où l'on mesure l'ampleur des cordes vocales de l'artiste qui se place clairement en avant par rapport aux arrangements, plus en retrait mais qui accompagnent parfaitement la voix. Entre disco, house et beatbox, We Got A Love entraîne dans son dernier tiers l'auditeur vers des contrées encore défrichées, dévoilant une soul folle à la Gnarls Barkley et des notes de piano débridées façon dark cabaret.

A l'instar de Watts, Luke Jenner des regrettés The Rapture apporte à son tour son falsetto pour un titre Scissor Sisters-like où le disco laisse sa place à l'électro le temps d'un bref final saisissant, histoire de mettre l'auditeur en condition avant de dévoiler une composition purement techno à la Vitalic, Space Race, qui monte crescendo via cette mélodie basique mais addictive qui ne cesse d'être malmenée pour arriver à un dernier tiers dansant redoutable.
Parmi les featurings que comprend We Got A Love, on peut mentionner Nancy Whang, encore là après son apparition sur le très bon Take 'Em Up de From The Cradle To The Rave. Connue pour ses nombreuses collaborations avec des groupes de dance-punk (LCD Soundsystem, The Juan MacLean, Soulwax), elle retrouve ici Shit Robot pour une des meilleures compositions de l'album, Do That Dance, qui combine joyeusement électro actuel et funk des années 80.
Lidell Townsell, compositeur mythique de house et auteur d'un unique album en 1992, donne lui aussi de sa voix sur un Do It (Right) à la frivolité d'un Good Girl de Robin Thicke et la consistance d'un titre de Kings Of Leon période Aha Shake Heartbreak sur un refrain des plus accrocheurs. L'album se termine enfin sur Tempest, qui met du temps à démarrer mais sur sa deuxième moitié sort soudainement de sa hot(te) une house aguicheuse aux beats imparables.

Comeback réussi donc pour Shit Robot qui, accompagné de James Murphy, ne cesse d'explorer la dance music et ses à-côtés pour proposer des compositions toujours aussi réussies et diverses, certaines plus inspirées que d'autres mais toutes structurées et polishées au poil de beat près !