Pour le premier concert depuis la sortie de son dernier album
Only Myocardial Infarction Can Break Your Heart
, Matt Elliott avait de nouveau choisi le Café de la Danse à Paris et son ambiance sereine.
Assis posément sur les sièges ou par terre, à deux mètres de la scène, le public est en osmose totale devant Matt Elliott et ses musiciens, le suivant sur le bout des lèvres, dans un silence de cathédrale. Le groupe joue une dizaine de chansons, parmi elles la quasi-totalité de
Only Myocardial Infarction Can Break Your Heart
ainsi que deux reprises.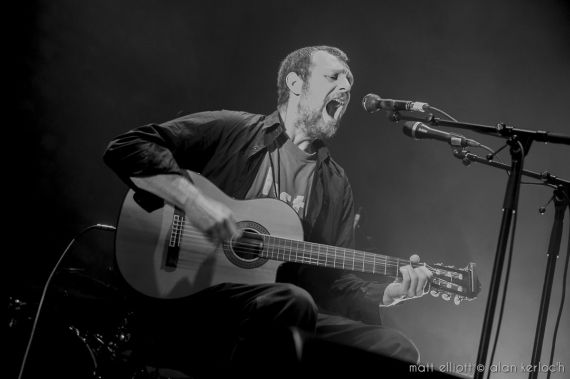 Il alterne titres de folk accélérée de trois ou quatre minutes et d'autres plus ambitieux scéniquement, qui évoluent crescendo, où les différents instruments qui se mettent progressivement en place. On peut notamment entendre
The Right To Cry
, qui débute somptueusement le dernier disque, et
Also Ran
, issue de
The Mess We Made
, interprétée en toute fin de set par un Matt Elliott seul sur scène, dont le
« I Will Haunt You In Your Sleep »
va clairement nous hanter après être sorti du Café de la Danse.
Les deux reprises quant à elles ne sont pas inconnues des fans puisque Matt Elliott les a jouées sur ses précédents concerts. La première,
I Put A Spell On You
, n'a rien à envier à Screamin' Jay Hawkins ou Nina Simone : plus proche de cette dernière, il la joue seul à la guitare, lui conférant un timbre plus folk et sombre.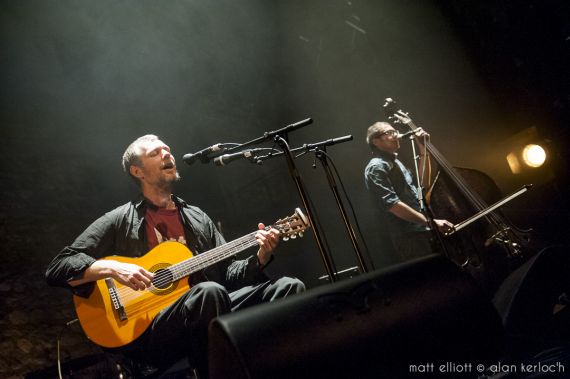 La seconde n'est autre que
Bang Bang (My Baby Shot Me Down)
, qu'il propose en rappel, seul sur scène, durant près de dix minutes, relativement fidèle à l'originale dans un premier temps puis qu'il réinterprète à sa sauce en superposant via sa pédale les accords de guitare et sa voix pour un résultat remarquable.
Même si l'aura de
Only Myocardial Infarction Can Break Your Heart
n'a pas encore celle de sa fameuse trilogie (
Drinking Songs
/
Falling Songs
/
Howling Songs
), Matt Elliott parvient tout de même à assurer le show, voire à rassurer les plus réticents à son dernier album.