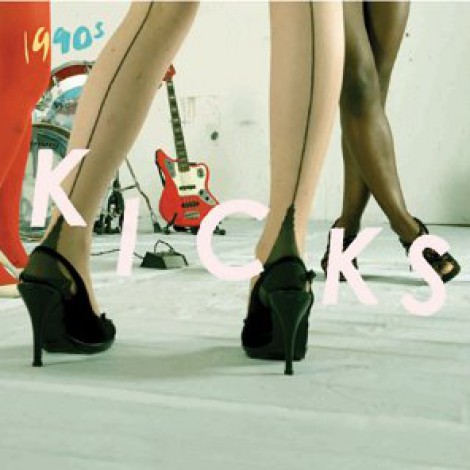 Chronique Album
Date de sortie : 23.03.2009
Label : Rough Trade


Rédigé par
Johan
, le 17 avril 2009
2009, retour des 1990s. Nos ex-Yummy Fur reviennent en ce printemps avec Kicks, second coup de pied dans la fourmilière du rock anglais tout aussi peu percutant que son prédécesseur.

Deux ans après un premier album sympathique, 1990s restent une nouvelle fois avec cette étiquette qui démange le rock actuel : « sympathique ». Sympathique mais peuvent clairement mieux faire dans le genre qu'ils proposent. Rabâchant les mêmes arrangements, les mêmes idées, les mêmes tonalités, Kicks n'est au final qu'un mauvais pastiche de Cookies.
Les incidents pop n'ont ainsi malheureusement pas déserté, les compositions sont toujours aussi légères et légèrement mâtinées de rock, pas assez pour convaincre, enseveli sous un amas de chœurs qui donneraient presque la nausée aux Fratellis.
Ils sont certes moins maniérés et prévisibles que sur le premier album (59, Sparks, Heart Of Glass), guitare et batterie sont conviées dans un fourre-tout pop parfois réussi (The Box, Kickstrasse, Everybody Please Relax), mais l'ensemble ne pioche certainement pas, comme on peut le lire de-ci de-là, du côté de The Fall ou The Kinks.

Rassemblant des restes laissés par Cookies, Kicks demeure dans la continuité de son prédécesseur malgré quelques illuminations furtives, à la manière de ce fabuleux break de quinze secondes sur la fin de I Don't Even Know What That Is. Mais quinze secondes sur un album de 40 minutes, c'est trop peu pour s'y pencher sérieusement.