Ce soir à l'Elysée Montmartre on débute par des
Shot Of Love
des Clapton cowboys Creatures. L'amour du western, chemises, rubans et chapeaux de cowboy. Les cinq bonhommes nous content des
Memories & Dreams
sur un rythme d'une grande générosité. Ils laissent la place à Temples sur un
Everything & More
prometteur.
Qui l'eût cru ? Tout guilleret que nous sommes dans l'attente de nous faire surprendre par Temples, un jeune trou du cul vient chambouler, bousculer les enthousiastes. Décidément, 2017 est d'une frivolité !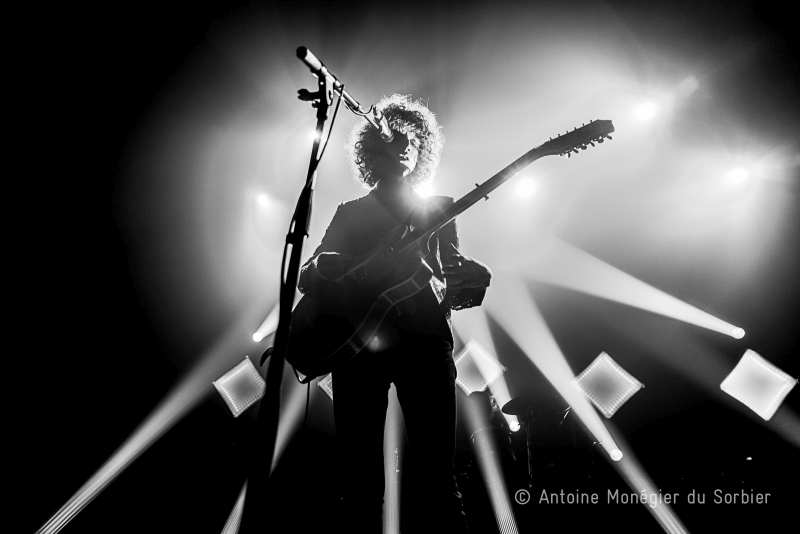 A l'arrivée du groupe vedette, c'est une salle comble qui balance des applaudissements retentissants. Les premières notes de
All Join In
en gravité, importantes hauteurs. Une voix claire, guitares et batterie. Le chanteur s'avance sur scène... Sa veste en surbrillance. Avec les Temples sur scène, on ressent un vrai revival 2017 des Pink Floyd. Des sonorités à la
Stairway To Heaven
. Cris dans la fosse, « Bonsoir Paris, ça va ? ».
Le concert de ce soir est placé sous le signe de la nouveauté, avec de nombreux titres issus du récent album
Volcano
. Le superbe
Roman Godlike Man
provoque pulsions et vibrations corporelles. La coupe champignon du bassiste Thomas Warmsley prend le vent. Les nouveaux Temples sont plus puissants, plus forts et plus graves. Trois magnifiques voix en psyché.
Adam Smith, aux claviers, domine la gauche de la scène avec son remarquable tartan et un maquillage apparent qui souligne les traits fins de son visage. Accord sur le bleu et la batterie industrielle. Notre regard se pose un instant sur les spots bleus et roses, que l'on croise avec une plaisante régularité au fil des concerts de qualité. Les cheveux bouclés du leader James Bagshaw se changent en touffe bicolore. Par moments, le concert quitte nos terres européennes, par une influence orientale venue des indes. Chaque membre du groupe est une créature individuelle, unique. Au regard de l'engouement général de ce soir, l'envie nous prend de connaître l'origine du plaisir procuré par ce maelstrom sonore.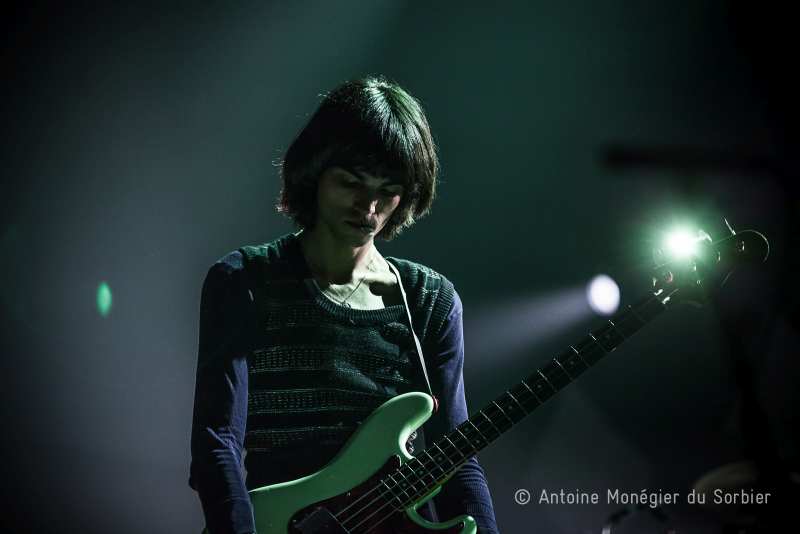 « This is fresh out of the album », résonnent alors les tonalités du tube tendance
Certainty
. A balle de synthés pour un régal instantané. Le batteur a le cheveu volatile. Androgyne mon amour. « It's about to get really sexy ». Dans le noir, la véritable identité sonore des Temples se révèle. Les cordes grasses jouent à la grimpante, stalagmites vocales. A l'unisson avec le public. On termine cette soirée érotico-spatiale par un double rappel des plus efficaces :
A Question Isn't Answered
et
Shelter Song
. Un concert parfaitement conclu sur ces dernières paroles : « (Last night) we stayed up late in a dream ».