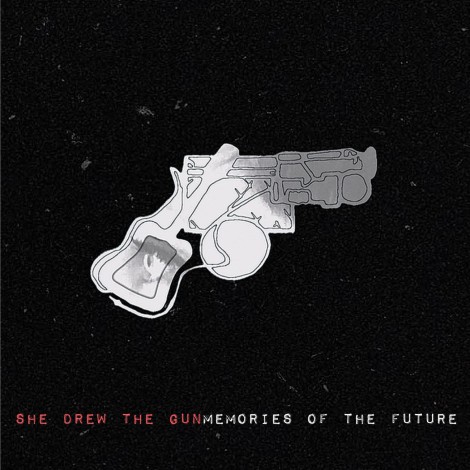 Chronique Album
Date de sortie : 01.04.2016
Label : Skeleton Key Records


Rédigé par
Sabrina Gonnard
, le 7 novembre 2017
Memories Of The Future est le premier album du groupe de Louise Roach, She Drew The Gun, originaire de Liverpool. En l'écoutant, on comprend mieux pourquoi ils ont remporté le prix de Glastonbury des talents émergents en avril de l'an dernier.

Les onze titres qui composent l'album nous plongent dans un univers de pop aérienne aux accents psychédéliques puissants, sublimés par des paroles soigneusement travaillées. La voix de l'alma mater du groupe, Louise Roach, auteure-compositrice et guitariste aussi, n'est pas sans rappeler celle des meilleures chanteuses de la scène alternative telles que PJ Harvey ou encore parfois la profondeur de tonalités d'une Amy Winehouse. Le reste de la magie est opérée par deux filles et un garçon : Siân Monaghan à la batterie, Jenni Kickhefer aux claviers et Jack Turner à la basse.

L'album s'ouvre avec Where I End And You Begin, un titre aux mélodies dream pop. Les paroles douces-amères chantées par Roach présentent des réminiscences soul qui nous emmènent lentement vers des terrains plus mélancoliques. Ainsi, Since You Were Not Mine nous parle de la désillusion amoureuse avec un « Tell me that I'm just dreaming, won't you wake me up » absolument poignant, ponctué par un riff de guitare. Poursuivant sur les chemins sombres, des titres comme If You Could See ou Be Mine révèlent des influences clairement Portishead-iennes créant des atmosphères rêveuses qui mettent en avant l'expressivité vocalique de Roach et la double portée lyrique et politique des paroles (« I was hoping for answers / I was opened to hear ») avant de clore la chanson avec une métaphore de l'écriture engagée (« I picked up my pen, I drew the gun »). En guise de pansement, Be Mine nous berce littéralement avec son hypnotique refrain « sweet lullaby » répété en boucle.

Enfin, Poem renouvelle brillamment la chanson de révolte. Ses paroles expriment le désarroi de notre époque avec un slogan « Life, give me something to believe in » et un cri d'espoir au milieu du marasme politico-économique: « The things that they're thieving / are yours and mine / You know that they're stealing / but there's still time / if you feel this way too ». L'avant-dernière chanson, Pit Pony, est, quant à elle, une démonstration de rock mettant la distorsion sonore à l'honneur.

En somme, Memories Of The Future est un condensé tourné vers le futur avec la pop psychédélique comme manifeste esthétique et politique.

She drew the gun offriront un concert gratuit ce 7 novembre au 1999 à Paris.