« Paris, Bonsoir ». Apparence de grande scène dans une petite salle ce soir à la Boule Noire.
La batterie est incognito, coiffée d'un palmier afro on top. Pour son premier concert dans la capitale, Mr Jukes alias Jack Steadman (ex-leader de Bombay Bicycle Club) et son big band embrayent avec
Somebody New
, chanson d'aide à la rupture qu'on adresserait à une copine qui broie du noir à cause d'un énième connard (« You got to quit acting so blue/And please stop dragging me down with you/Girl so find somebody new »). Le concert est rythmé par de beaux solos instrumentaux.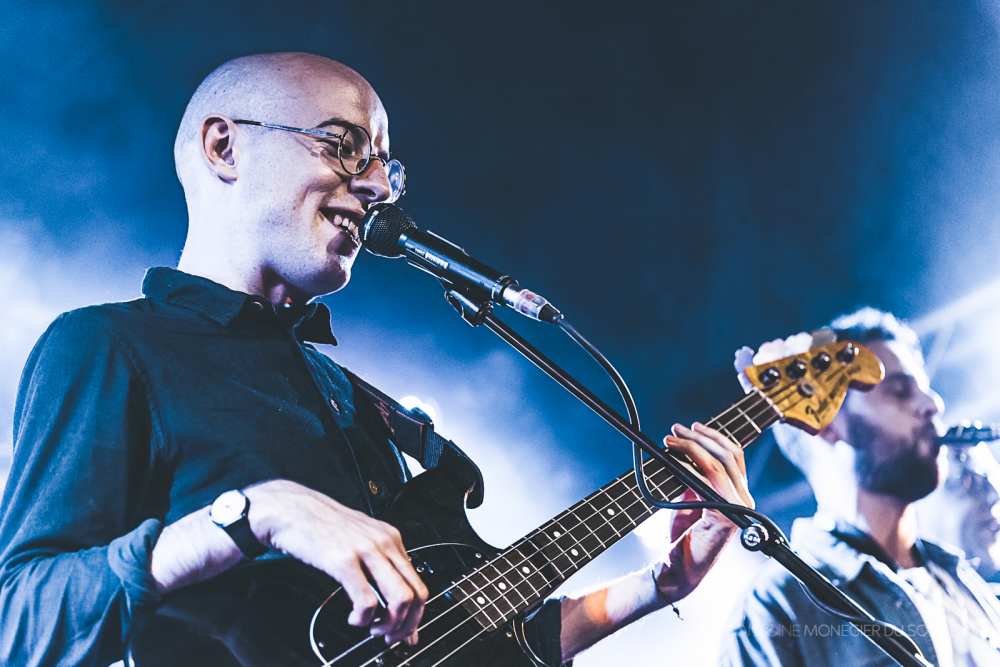 Loin d'être une ode à la déprime post-rupture, cette performance vous délocalise dans une marmite de sonorités jazzy love qui se font écho avec des titres mielleux comme
Fall In Love
, reprise des Slum Village. Les voix sont assurées par un chœur mixte et métissé, mené par une grande chanteuse aux airs de Billie Holiday, qui étire ses cordes vocales comme elle attire notre joie.
Sur le quatrième titre,
Leap Of Faith
, initialement un featuring avec De la Soul et Horace Andy, intimiste, on se prendrait presque à croire qu'ils sont ici, sur scène. Vient ensuite
Magic
et ses « Try to find the words to say ». Le saxophone se lance, accompagné de la très chère basse de Jack Steadman et des paroles toujours plus miroir de notre existence (« I keep on falling in love/You keep on falling in trouble »).
On déplore parfois le manque de diversité dans les tons musicaux. « A little song called Ruby », c'est là que Mr Jukes attire la tension (« Your ruby lips, oh so close to mine ») avec sensualité pour nous relâcher de son étreinte sonore quelques notes plus tard. Cet instant de grace où la poésie et le jazz ne font qu'un (« They can sing in ecstasy / They can drink their wine / But I won't let them pass between / Your ruby lips, oh so close to mine »). Imaginez, tant d'énergie condensée sur une petite scène : trois choristes à gauche, Jack Steadman rayonnant au centre, saxophone, trompette basson à gauche, accompagnés par un clavier, en retrait, qui envoie jusqu'à l'autre bout de la salle.
Applaudissements. La salle frappe et saute à mains jointes. A vous apprendre à danser. « And one and two and three and four » dans le public, deux mini white cherry pies font écho à la puissance qui se dégage de la scène en balançant les paroles, tout droit du cœur. Quelques « parisian connotations » avec le morceau Strasbourg Saint-Denis. Sans voix, place aux instruments qui gueulent juste. Un solo de saxophone à 300% sorti des tripes et ajusté avec son bec, ses lèvres pulpeuses.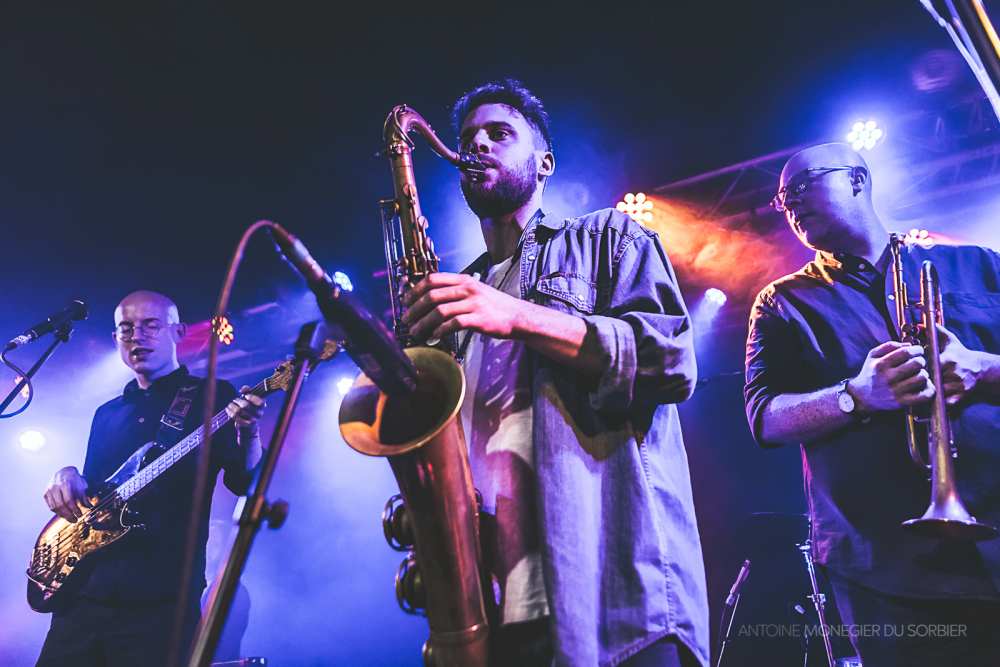 Pour le rappel, la lumière bleue rougit pour
Typhoon
et son chant solennel, grave (« No more sweat / No more blood / Only god / Only god »). Un final sur
Grant Green
, grand featuring avec Charles Bradley, disparu des suites d'un cancer quelques jours avant : « One more song to the one and only Charles Bradley ». Simple, pudique, britannique.
« I need you (baby) / You can make my heart go wild / You, oh, you can make my heart go wild » : l'audience se transforme en gospel funk, prête à ranimer le cœur du grand Charles Bradley.