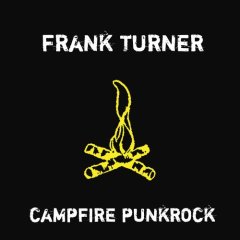 Chronique Single/EP
Date de sortie : 15.05.2006
Label :Xtra Mile Recordings


Rédigé par
Fab
, le 13 mai 2006
Le Frank Turner nouveau n'a décidément plus rien à voir avec celui connu au sein de Million Dead : fini le son rageur et punk, fini le chant crié et les mots écoulés à un rythme intenable, finis les textes politisés... le Frank Turner de 2006 est un songwriter maniant l'acoustique avec brio tout en mettant sa vie et ses amours en paroles.

Le refrain « I'm bored of this town, bored of this scene, bored of these people » de This Town Ain't Big Enough For The One Of Me résume à lui seul la véritable métamorphose subie ce poète des temps modernes. Désormais seul aux commandes de sa carrière, Frank Turner étrenne les nouvelles compositions de son Campfire Punkrock Ep sur les routes d'Angleterre, et bientôt d'Europe, depuis plusieurs mois déjà.

La nouvelle orientation musicale adoptée est certes surprenante et probablement déroutante pour ses anciens fans au premier abord, mais les cinq compositions rassemblées au sein de cet EP rassurent rapidement sur la capacité d'adaptation de notre ancien révolutionnaire. Seul à la guitare ou accompagné par ses camarades de Dive Dive sur Nashville Tennessee ou I Really Don't Care What You Did On Your Gap Year, Frank Turner maîtrise son sujet sans aucune fausse note, et là est bien le principal.

Touchante et inspirée, la musique de feu de camp de Frank Turner a encore de beaux jours devant elle. Confirmation attendue sur les routes de France tout au long du mois de mai !