Qui a dit que le DJing n'avait rien de féministe ? Pas
Tia Turn Tables
, assurément. C'est elle qui ouvre le bal ce soir à La Gaîté Lyrique, pour une nouvelle version des Femmes s'en Mêlent. Parée d'un t-shirt explicite, « The Future is Female », avec son visage de Noomi Rapace dans Millenium, la jeune djette pose l'ambiance urban, qui règnera jusqu'au bout.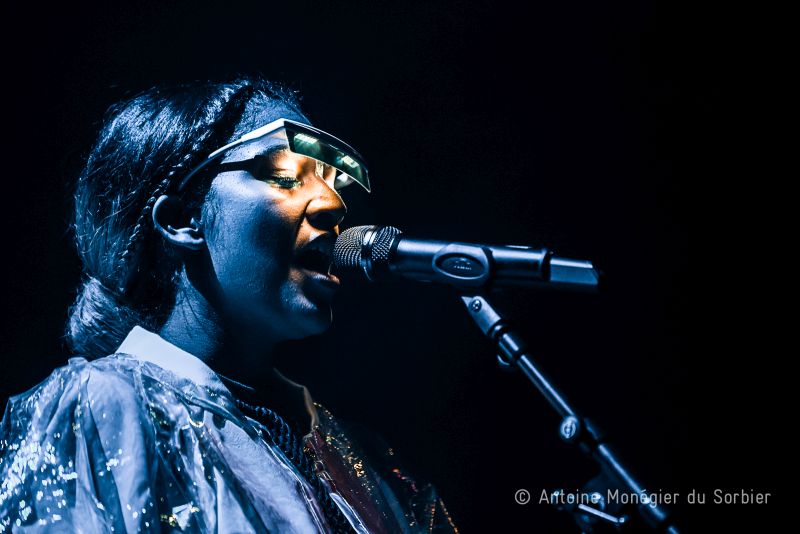 Un court interlude à base de Lana Del Rey nous mène doucement mais sûrement vers l'univers singulier et barré de la française
Sônge
. Vêtue d'un bombers en alu spatial, les mains en méditation, la créature nous lance un « Bonsoir » menaçant. Menace d'hypnotisation. Des paroles enchanteresses (« Si les étoiles ne nous illuminent pas »), provocatrices, entre hochements de têtes féminins et interrogations masculines. Musique synesthésique qui nous fait entendre la voix des couleurs (« I hear colours in my head/Colours in my head/Telling me secrets »). Avec Sônge, on prend le funiculaire vers un ailleurs, stellaire (« Far away from earth »). Côté fosse, la meute arrive et se rapproche. Des jeunes adultes à l'esprit d'enfant, imitent les scènes cultes de combat aux sabres lasers. Entrer dans un concert de Sônge, c'est un peu comme rejoindre une tribu. Un duo de mini rappeurs junior reprennent les mots de la chanteuse pour en faire un mini freestyle. En concert, le talent se transmet, instantanément.
Sônge contrôle son public : « La Gaîté can you hear me now? ». L'artiste maîtrise aussi les styles, entre exotisme traditionnel venu d'un autre continent et des airs de Debussy sur
I Come From Pain
, la révélation est faite. « I know it's so bad but I can't stop », des paroles qu'on aime se répéter, s'approprier. Les claquements de mains collectifs se joignent aux spins des paroles (« Maybe you're the reason my head is spinning »). Nos oreilles attentives se désolent d'entendre la fin (« It's all over, it's all over now »). Mais Sônge refait surface pour un grand final, une reprise du The Hills de The Weeknd, toute en douceur (« I only call you when it's half past five/The only time that I'll be by your side ».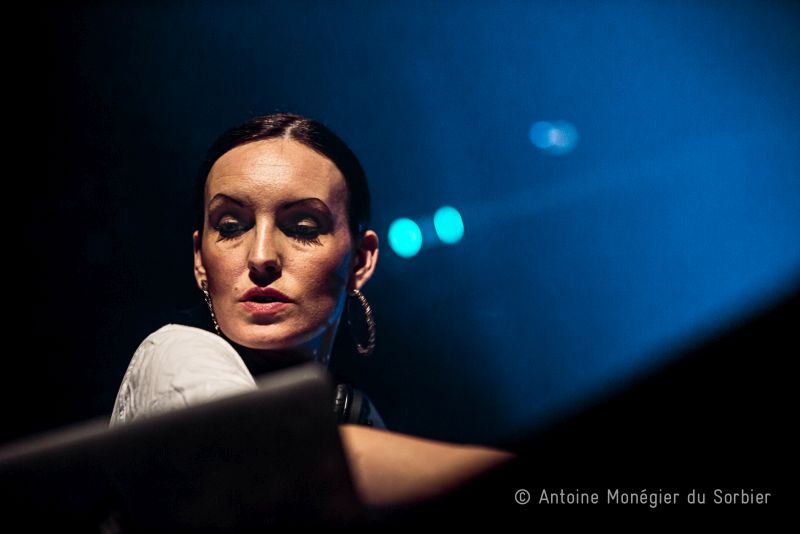 Pour nous permettre de patienter, pour siroter un délicieux verre au comptoir de la Gaîté, Tia Turn Tables est de retour au mixage de sons acidulés. On prend le temps d'observer la salle de concert, avec ses spots nénuphars bleus au coeur rouge. Plongée dans un univers aquatique jusqu'à la claque, ou plutôt le mouvement de foule qui vous transporte d'un bout à l'autre de la salle, avec en prime le sol qui tremble, vous obligeant au jumpstyle. Mais, que se passe-t-il ? L'
Intervention
de
Little Simz
nous bouscule (« Bitch you know that I'm the man ». Une minette à casquette qui fait des checks de bonhomme à une foule en délire. Little Simz, en choeur avec son public, sur ses classiques comme ses nouvelles bombes atomiques, à l'image de
Doorways+Trust Issues
qui transforme la fosse en armée de robots. « Hands up! », l'ordre lancé, nous voici au coeur d'un dancefloor robotique, dynamique orgasmique. Little Simz a de quoi nous charmer ce soir à Paris, le sourire qui monte jusqu'aux oreilles quand elle nous rappelle que son nouvel album est produit par un français ! Des mots justes, l'écho d'une génération en manque d'explications « Everybody want to fake shit these days/While you're being wasteful in a time of need ». Little Simz, un rap aux grandes ailes, très loin des chicken wings.
Sur
Wings
, justement, le cri comme premier souffle :
« This is my story, wait, nah
This is our story, this is our fate
This is our kingdom, this is our place
This is our freedom, cut off them chains
This is our struggle, this is our pain
This is our love, this is our trust
This is our daughters, this is our sons
Give me back my wings, yeah »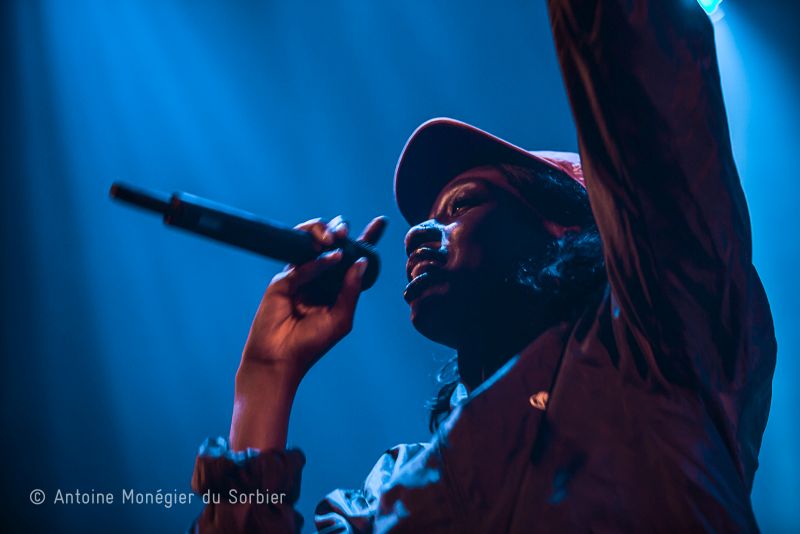 Little Simz, une rap machine aux émotions artistiques. Elle nous raconte, ce
God Bless Mary
écrit pour sa voisine qui l'entendait toutes les nuits « playing my shit hella loud », sans jamais se plaindre. Un mot d'excuse qui vaut tout l'or du monde (« But I never said sorry and this is my apology/God bless Mary (sorry) ». Little Simz habite la scène, elle se déplace dans les moindres recoins pour capter le regard de chacun. Quand on la croise, on lui dit, intérieurement « Girl, you rock my world ». Brûlant, notre corps tout entier nous dit « Boom boom on the floor, come on give me some more ». Avec sa salopette et son t-shirt rayé, la chanteuse a le look Baby boy Sailor.
Une fumée se disperse dans le public, un parfum d'herbes folles embaume l'ambiance. L'artiste chope sa guitare,
Interlude
dévoile une autre phase (« Sippin' on Dom Pérignon »). Les couples d'amis se mettent à faire des coeurs à quatre mains, trop envoûtés. « Paris, as loud as you can possibly be » : le public a du coffre. A la question « Do you wanna see a dead body? », réaction automatique, gros jump dans la fosse. Un sol tremblant, pire qu'à La Cigale. Et pour cause, ce classique totalise plus de 1 400 000 vues sur Youtube. La show girl nous tiendra jusqu'au bout, « I got one more left in me », invitant les « all scared and shy » à se remuer, elle ordonne « I need 130% energy from every single one of you ».
Accompagnée de son DJ qui assure et de ses acolytes qui explosent la Vittel sur le public, Little Simz obtient le final souhaité : « nice and sweaty ».