En première partie ce soir, la brise australienne de
Hein Cooper
, et les textes de
Matthew And The Atlas
, groupe mené par Matthew Hegarty, le « Bon Iver anglais ». Un tantinet trop calme, on s'entend réagir intérieurement « plus fort ! plus fort ! ».
Le Café de la Danse est taillé pour un live intimiste ce soir,
Bear's Den
sont enfin sur scène. On peut enlever sa veste et la poser sur le devant de la scène, aux pieds des musiciens. On se détend et on écoute... C'est bon d'entendre le nouvel album en live. Mention spéciale au titre
Red Earth And Pouring Rain
, qui introduit le spectacle avec son « I don't wanna be the one to call it out, love ». C'est pop, c'est planant, ça sonne presque... Électro ? (« Baby you can count on me », « Don't you remember love? Don't you remember love? Don't you remember anything? »).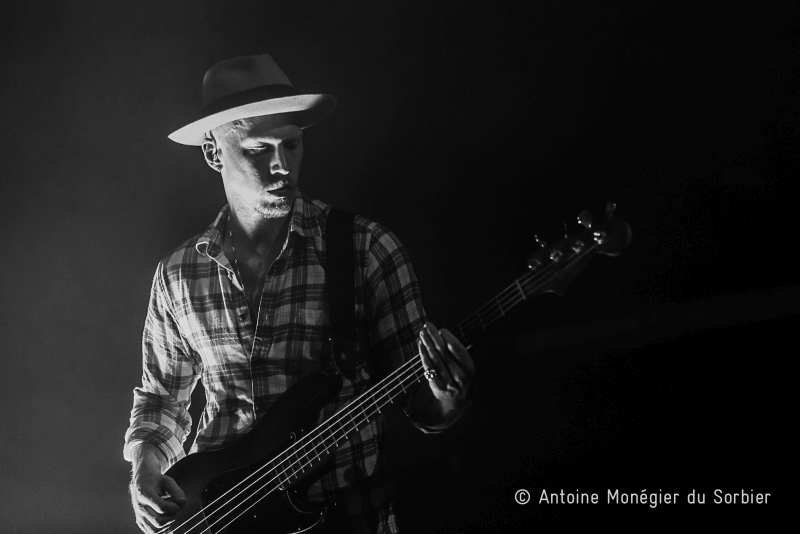 L'audience est toute ouïe, Bear's Den réceptifs à l'enthousiasme, renvoyant des sourires décontractés, remerciant le public à de multiples reprises pour leurs applaudissements. La chanson
Emeralds
et ses « I tried so hard. Don't lead me away, no » fait la part belle à la suggestion, laissant l'audience à l'écoute du chant des guitares.
Elysium
est une interrogation à la foule : « Brother do you believe in an afterlife » ? Un message d'espoir pour cet au-delà avec le « We'll open all the gates and we will walk careless straight into the light ». Ambiance.
Cette suggestion se transforme en confusion sur
Broken Parable
(« Somewhere I lost it all », « Babe, I'm dying to be born again »). Nos esprits sans plus un repère, se laissent emportés par ces mélodies hypnotisantes. Mention spéciale à l'interprétation de
When You Break
et
Stubborn Beast
, deux anciens titres, simples mais riches en émotions.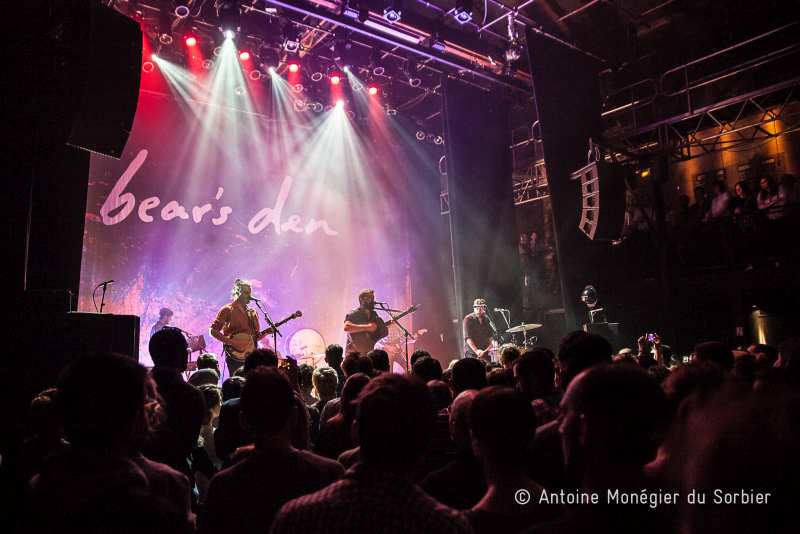 La chanson
Sophie
, jouée unplugged, est un vrai bijou de tendresse. Le premier morceau du rappel,
Napoleon
, une énième preuve du tournant électro pris par le groupe dans son dernier album. A choisir, on retiendra le premier,
Islands
, sorti en 2014, plus authentique.
L'acte acoustique final, offert au public depuis les marches de la salle du Café de la Danse, ce chœur formé par les artistes et le public, chantant
Agape
à l'unisson, était un beau moment de chaleur musicale. Tout droit venu de Londres, le groupe alternatif Bear's Den nous a prouvé, une nouvelle fois, qu'ils étaient plus qu'une simple référence à un parc naturel du Massachussetts.