Un Badaboum plein à craquer ce soir pour le concert mouvementé de Loyle Carner. Son pote Barney Artist se charge du warm up comme un chef, à coup de « Everybody clap with me come on » ou « Make some noise Paris ». Accompagné d'un joyeux DJ, il pose son rap, ajuste ses mots pour nous faire chanter. Il s'autorise même un petit
Sexual Healing
, nous confiant son statut de célibataire récent et son attrait particulier pour les réceptions de mariages. Love is in the air.
« The Lord will make a way », la phrase sacrée de
The Isle Of Arran
retentit dans la salle du bien nommé Badaboum et le jeune public ovationne Lord/Loyle Carner. Un éclair de talent dès les premiers instants (« With the lines I'm obsessed, rhymes I possess »). Une efficacité, un amour du public qui nous réjouit (« No joke I think I love Paris »).
Loyle est comme à la maison, sur scène. Entre chaque son il nous offre un sourire ravageur de trois mètres de long, l'air de dire « Je n'en crois pas mes yeux », exprimant sa joie face aux tonnerres d'applaudissements.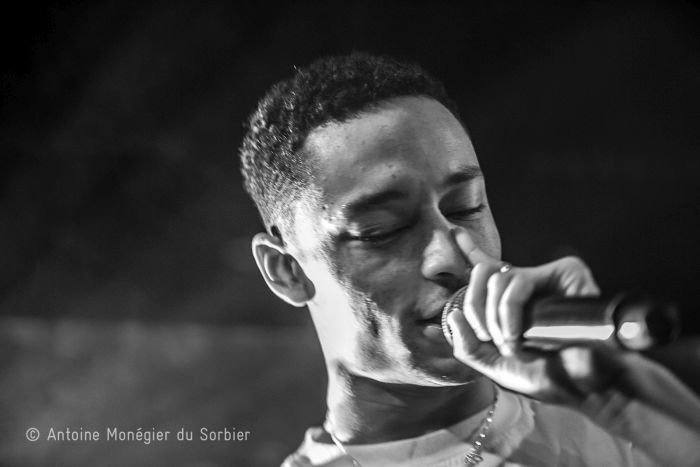 Un phrasé délicieusement rythmé sur
+44
(« A sugar-soaked sentiment for sceptics »). Puis par moments, le chanteur que l'on voit, si imperturbable, nous livre ses peines (« About a girl who broke my heart ») alors que
Seamstress
se veut au sujet de l'addiction, substance liquide et sentiments (« Reckons I got a drinking problem/I've been sinking a lot of whiskey »).
Entre deux titres il se déclare, à l'attention des détracteurs qui le disent malheureux (« I'm having the time of my life, I'm over the moon »). Une dédicace à son ami Tom Misch sur le jazzy
Damselfly
, qu'ils ont enregistré en featuring. Loyle Carner tisse un vrai lien énergique avec le public (« Make some noise for yourself one time/I'm fucking speechless/Let's keep this energy going », puis son acolyte producteur et rappeur Rebel Kleff le rejoint sur la piste. A eux deux ils enflamment le Badaboum avec
No Worries
, deux jaguars du rap qui balancent des mots pleins d'images (« Even the apple of my eye turn green with envy/When every jungle animal is on a feeding frenzy »). Ils reprennent Check the Rhime de A Tribe Called Quest. Le concert se passe si bien que Loyle déclare « Fuck Brexit/I wanna come live with you guys/Vive la France ! ».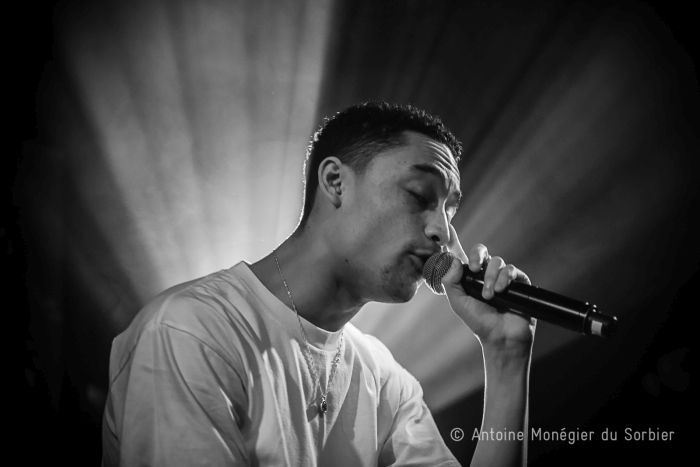 Un titre rock avec
NO CD
et un fil rouge pour le reste de la soirée : l'amour filial, entre Florence, la petite sœur imaginaire, la fille que sa maman a toujours voulue (« She could be my little freckled face fidgeter/Me but minature »),
BFG
, pour son père (« Everybody says I'm fucking sad/Of course I'm fucking sad, I miss my fucking dad ») et l'ultime émotion sur
Sun Of Jean
où Loyle raconte « My father was a musician, he had a song called Yesterday's Gone, that's why I gave this title to the whole album, I did it for my paps ». Sans oublier les paroles, pour sa maman, Jean Coyle-Larner (« Me and my mother, there ain't nothing that can come between/Cos I'm the son of Jean »). Un dernier couplet par Jean, que l'on voit sur la vidéo projetée sur scène, et ses mots, si clairvoyants : « He used to draw on anything/Fantastical creatures with ferocious fangs/And now he draws with words ».
Loyle Carner, le « dessinateur de mots », nous laisse bouche bée ce soir, impatients de nouveautés.