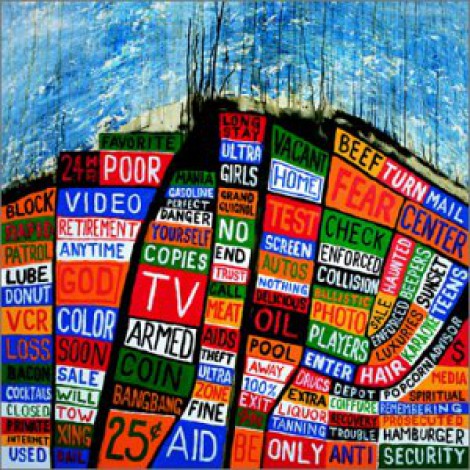 Chronique Album
Date de sortie : 09.06.2003
Label : Parlophone


Rédigé par
Mathieu
, le 16 janvier 2004
D'abord, une constatation : Radiohead est soudain devenu un groupe politique. Rarement en effet un titre d'album aura fait couler autant d'encre. 'Hail to the thief', salut ironique à G.W. Bush, le voleur d'élections, le voleur de liberté. D'accord pour le principe, mais attention quand même à ne pas devenir de nouveaux U2 !

Ensuite, une bonne et une mauvais nouvelle. La mauvaise, c'est que le groupe d'Oxford ne réécrira sans doute plus jamais un album aussi phénoménal que OK computer (1997). La bonne, c'est que 'Hail to the thief' est un superbe opus.

Thom Yorke a ici opté pour un retour à des bases pop-rock, comme en témoigne l'attractif morceau d'ouverture, '2+2=5', tout en conservant les solides influences électro qui avaient jalonné les précédents efforts, « Kid A » et « Amnesiac » ('Backdrifts', 'The gloaming'). Il en résulte un génial et intriguant mélange de rythmes et d'émotions. De jolies ballades innocentes ('Where I end and you begin', 'Scatterbrain') côtoient sans pudeur des passages plus agressifs, que ce soit par leur ton ('Sit down. Stand up') ou leur contenu ('We suck young blood').

S'il n'y avait que deux morceaux à retenir, ce seraient les très soignés 'Sail to the moon' et 'There there' ; mais comment passer sous silence la colère contenue de 'A Punchup At A Wedding' ou le sentiment d'angoisse entourant 'Myxomatosis' ?

Certes, Radiohead est peut-être devenu le groupe le plus sophistiqué et complexe sur une planète rock qui ne jure aujourd'hui que par simplicité et efficacité, mais 'Hail To The Thief' est d'une telle richesse qu'il ne peut décemment pas être écarté du tableau d'honneur de l'année.