Soirée bondée en plein mardi au Supersonic pour accueillir un groupe de taille : Black Honey et leur meneuse Izzy B Phillips, version David Lynch-trash de Marilyn Monroe.
On débute par un avertissement nommé
The Assist
, ça fait grincer les cuisses et vibrer la cigarette que t'as au bec, loin là-haut dans le fumoir. Ça parle de Wonderful, de gonzesses (« Tell her how you feel »), mais surtout, de beaucoup, de trop, d'amour. C'est leur premier concert à Paris, ils sont venus à leur frais, et ça c'est un beau cadeau. Côté son ? Ca ne peut qu'aller mieux. Après cette première expérience de première partie en acoustique fumoir, on a le temps d'observer, du général au particulier, les jeunes primates qui forment l'audience du jour. Et aux anciens d'ajouter « C'est là que tu te dis, merde j'ai pas mon BAFA ».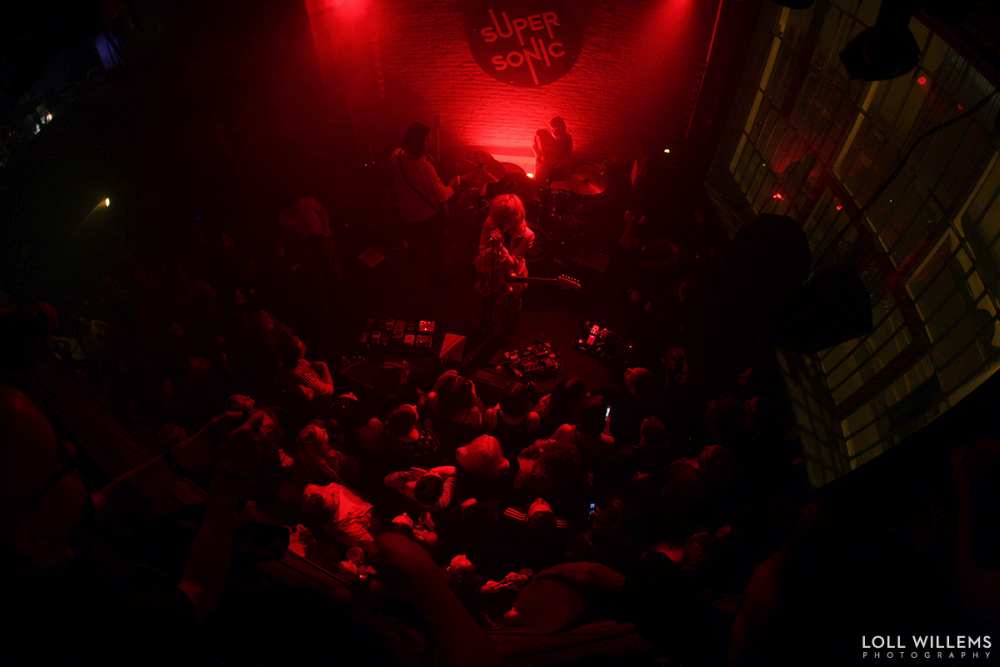 Trêve de plaisanteries, place au shoegaze sixties et à la noirceur pas si mielleuse de
Black Honey
. Izzy fait valser toute la salle de son regard révulsé / incisif / révulsé / éventrant. Un look pink punk tout droit sorti de Harajuku, Tokyo, Japon. Tout est agression et sensualité, même la crinière bataille.
Le gun sur la tempe. Oh come on. Dans la salle, le rouge à lèvres noir et les cheveux courts de punkettes assumées sont en pleine liaison fatale avec la scène et ses créatures : Izzy B Phillips, Chris Ostler, Tommy Taylor et Tom Dewhurst. Les tonalités tango western de
Sleep Forever
se mêlent aux regards huilés par les effluves de rhum ambré (« I wish I could sleep forever oooh, I wish I could sleep forever with you »). Izzy ne chante pas, elle ronronne, pour notre plus grand plaisir (« So you could take me there »). Même la batterie s'en étourdie. Black Honey ou la déviance sublimée. Oh cette voix de candy girl sur
Somebody Better
, et cet hommage à toutes les victimes des amours chiennes (« Lonely nights will eat you inside, Send me a sight, Tell me what's real when I live in a lie »).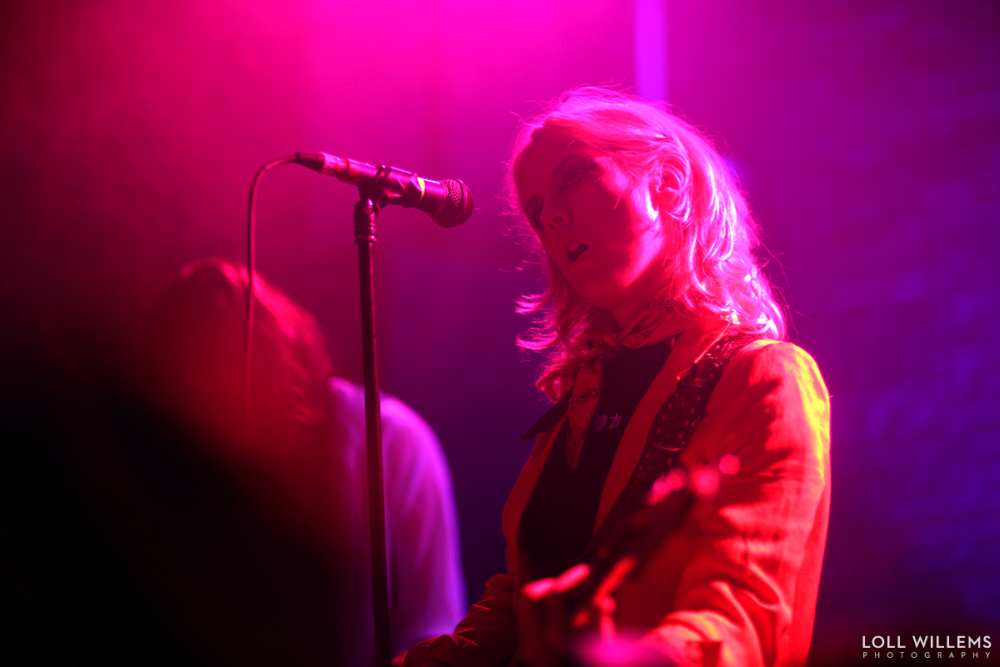 L'audience s'emballe. La féline est câline. Sur
Spinning Wheel
pas moyen de rester stoïque, c'est le corps qui parle. Entre deux sons, Izzy se remonte le pantalon, démonte la salle et complimente pour nous achever : « You guys are fucking next level ». L'audience franco-britannique de ce soir est maraboutée à 360°. Des paroles qui claquent (« We'll car crash in a Cadillac ») et l'émotion apporte une incompréhension presque voulue sur cet ordre (« Clap your hands, show me your ass »). « We are in this shit together ! », mais oui Izzy, soyons ensemble face à l'adversité !
Un final de type « Come down, get love », tous à terre, assis les uns collés aux autres, dans l'esprit Black Honey.