Soirée fantomatique. A la vue des machines Prophet-6, VOX, on s'attend à de belles apparitions.
En ce jeudi alternant soleil et pluie, quelque espoir météorologique, plutôt annonciateur d'une musique morose. Dans le public on parle d'un concert de Deerhunter, où ils avaient tenté d'apprendre quelques accords à un mec du public, un concert surréaliste. On apprend que Deerhunter, c'est bon dans une bonne salle intimiste. Ce soir, voici un fond sonore jazzy avec percussions et batterie. Place à l'éclairage bleu noir et une introduction sur vibreur aux mots de
Many Moods At Midnight
(« Let's stay together », « I don't know how to react »). Les basses nous gorgent de palpitations face à ces hurlements à la lune (« I'm howling at the moon / Snatching at your ear »).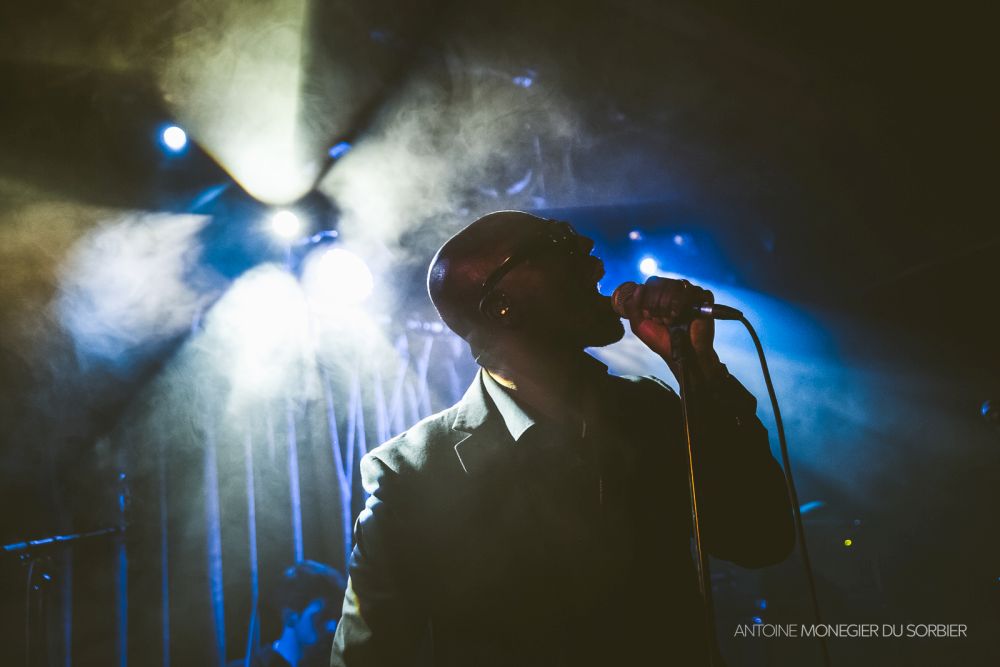 Ghostpoet alias Obaro Ejimiwe a le costard into darkness. De la Maroquinerie, on est téléporté dans la ville Blade Runner 2049, version trip-hop et spoken word. Une douleur nous est susurrée, avec cette main droite qui frappe le clavier. Obaro enclenche le micro comme on saisit le volant sur une course de tuning, le public applaudit, une voix de femme rassure au loin. Par moments, les paliers de Carmina Burana nous reviennent. Fureur. Ghostpoet est discret et appliqué : « I won't talk too much, I'll just play music ».
Sur
Dopamine If I Do
, tiré de son dernier album
Dark Days + Canapés
, c'est l'heure introspective (« What am I? / Surely a man / Carved out of meat »). La voix surplombe l'instrumentation, nous évitant toute perdition. La température ruisselle sur son crâne d'ébène, Ghostpoet a l'esprit volcanique, la gratte s'emballe pour des rythmes effrénés sur
Karoshi
, dénonçant la vanité du dur labeur (« Fighting for what? (To the grave, to the grave)/ Bloodshed and winning for what? »). Une séparation à deux voix sur
Yes, I Helped You Pack
(« You're out of your head / I've got to cut ties for good, my dear / My patience down to a thread »). La messe est dite, les disciples tendent l'oreille.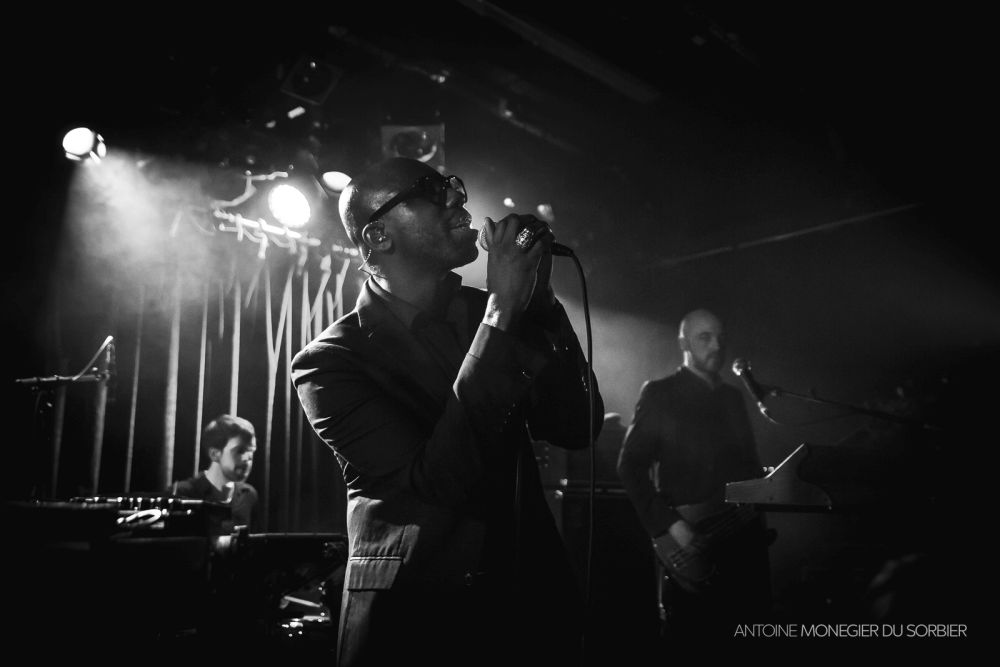 Le rejet pectoral se présente sur
(We're) Dominoes
, des synthés d'usine nous promènent dans la zone, le patronyme « Ghostpoet » frémit sur la grosse caisse (« Elevate, a vision of you, a vision of me »). On ressent des visions de plaisir sur une instrumentation à la
Won't Get Fooled Again
des Who. Le tic du déclencheur photographique chatouille l'oreille (« I think I'm out of control »), l'ouïe des spectateurs est en alerte. Cataclysmique.
Soudain, la fosse se transforme avec
Freakshow
(« Let me out / Let me go / It's a freakshow »). A la Maroquinerie, il arrive que les artistes vous invitent à boire un verre, c'est presque le cas avec Ghostpoet : « We're gonna have a couple of drinks and have fun, come join us please ». L'ultime vision capturée : un homme qui sautille avec frénésie dans le public, pour la dernière aux airs feel good.